When it comes to paradise destinations, Waikiki effortlessly wins the hearts of beach lovers worldwide. With its pristine white sands and crystal-clear turquoise waters, Waikiki boasts some of the best beaches in Hawaii. Whether you're seeking a tranquil spot to relax or looking to catch some waves, this article will guide you through the top beaches in Waikiki that promise an unforgettable beach experience. From iconic Waikiki Beach to lesser-known gems, get ready for a sun-kissed adventure in this captivating location.
This image is property of www.best-of-oahu.com.
1. Duke Kahanamoku Beach
Located at the heart of Waikiki, Duke Kahanamoku Beach holds a significant place in the history of the Hawaiian Islands. Named after Duke Paoa Kahanamoku, an Olympic gold medalist in swimming and a legendary figure in the world of surfing, this beach captures the essence of Hawaiian beach culture. It was here that Duke introduced the sport of surfing to the world, making it a spiritual home for surfers and water sports enthusiasts.
With its pristine sands and crystal-clear waters, Duke Kahanamoku Beach offers a wide range of activities and amenities for visitors to enjoy. Whether you're looking to swim, sunbathe, or simply relax under the shade of a palm tree, this beach has something for everyone. The calm waters make it an ideal spot for novice swimmers and families with young children. Lifeguards are also on duty, ensuring the safety of all beachgoers.
Throughout the year, Duke Kahanamoku Beach is home to several popular events that attract both locals and tourists alike. From beach volleyball tournaments to live music performances, there is always something happening here. One of the highlights is the annual Duke's OceanFest, a week-long celebration of water sports, including surf competitions, paddleboarding races, and outrigger canoe regattas. Make sure to check the event calendar before your visit for a chance to witness the vibrant beach culture of Waikiki.
2. Waikiki Beach
As one of the most iconic beaches in the world, Waikiki Beach needs no introduction. Stretching for two miles along the south shore of Oahu, it offers breathtaking views of the Pacific Ocean and the towering Diamond Head volcanic crater. Its popularity can be attributed not only to its natural beauty but also to the wide range of beach activities it offers.
Whether you're a beginner or an experienced water sports enthusiast, Waikiki Beach boasts a plethora of activities to keep you entertained. From snorkeling and paddling to parasailing and jet skiing, there's no shortage of options. For the adventurous souls, surfing is a must-try experience. This world-renowned surf spot provides consistent waves, suitable for surfers of all skill levels. Lessons are readily available for those eager to catch their first wave.
For those seeking a more relaxed experience, strolling along the beach promenade or taking a leisurely swim in the warm waters can be equally enjoyable. With vibrant beachfront shops, restaurants, and hotels, Waikiki Beach offers a perfect blend of natural beauty and modern amenities.
3. Kuhio Beach
If you're looking for a family-friendly atmosphere and a place where children can play and explore, Kuhio Beach is the ideal destination. Named after Prince Jonah Kuhio Kalaniana'ole, this beach park offers a safe and welcoming environment for families to enjoy.
Kuhio Beach features a variety of amenities that cater to both locals and visitors. Grassy areas shaded by tall palm trees provide the perfect spot for picnics, barbecues, or simply soaking up the sun. Beachside showers and restrooms are conveniently located, ensuring comfort and convenience for beachgoers. The beach park also offers picnic tables, making it a great place to enjoy a meal with your loved ones.
To ensure the safety of beachgoers, Kuhio Beach has an Ocean Safety Program in place. Experienced lifeguards are stationed along the shoreline, keeping a watchful eye over swimmers and providing assistance when needed. The program also includes educational initiatives, such as water safety talks and junior lifeguard programs, aimed at promoting awareness and preserving the natural beauty of the beach.
4. Sans Souci Beach
With its unique name and tranquil vibe, Sans Souci Beach offers a peaceful escape from the bustling crowds of Waikiki. Derived from French, "Sans Souci" translates to "without worries," which perfectly encapsulates the atmosphere of this hidden gem.
One of the main attractions of Sans Souci Beach is its calm water conditions, making it an excellent spot for swimming and snorkeling. The gentle waves and protected cove offer a safe environment for those looking to enjoy a refreshing dip in the ocean. The snorkeling opportunities are particularly impressive, as vibrant coral reefs teeming with marine life await just beneath the surface.
Coral reef exploration is a popular activity at Sans Souci Beach, allowing visitors to witness the beauty and diversity of Hawaii's underwater world. With a snorkel and mask in hand, you can swim alongside colorful fish, spot sea turtles, and marvel at the coral formations that dot the ocean floor. Make sure to respect the fragile ecosystem and follow any guidelines to ensure the preservation of this natural wonder.
This image is property of www.hawaii-guide.com.
5. Royal Moana Beach
If you're seeking a serene and picturesque beach experience, look no further than Royal Moana Beach. Situated in the shadow of Diamond Head, this peaceful oasis provides a breathtaking backdrop for relaxation and recreation.
Royal Moana Beach offers several picnic and relaxation spots, where you can set up a blanket, unwind, and soak in the stunning scenery. Whether you choose to bask in the warm Hawaiian sun or enjoy a shaded retreat beneath the swaying palm trees, this beach provides the perfect environment to rejuvenate your mind and body.
For those seeking an extended beach stay, Royal Moana Beach offers unique beach cottages nestled along its shores. These charming accommodations provide a cozy retreat with direct beach access, allowing you to wake up to the sound of crashing waves and the sight of a vibrant sunrise. It's an incredible opportunity to experience the true essence of beach living.
6. Gray's Beach
Tucked away from the busy tourist areas, Gray's Beach is a local hangout where you can experience Waikiki from a different perspective. This secluded beach offers a more laid-back ambiance, away from the hustle and bustle of the main tourist hotspots.
One of the highlights of Gray's Beach is its stunning sunset views. As dusk approaches, the sky comes alive with vibrant hues of orange, pink, and purple, creating a mesmerizing backdrop for an evening stroll along the shoreline. Whether you're an amateur photographer or simply looking to witness the beauty of nature, Gray's Beach offers a front-row seat to a spectacular sunset spectacle.
With its shallow water conditions, Gray's Beach is also a great spot for swimming. The calm waves and sandy bottom make it easy to navigate, even for less experienced swimmers. The beach is rarely crowded, allowing you to fully enjoy the serene and peaceful atmosphere that it offers.
This image is property of dynamic-media-cdn.tripadvisor.com.
7. Queen's Surf Beach
Queen's Surf Beach holds great historical significance in the story of Waikiki. Named after Queen Liliuokalani, the last reigning monarch of the Kingdom of Hawaii, this beach has witnessed many important events throughout its history.
Water activities are plentiful at Queen's Surf Beach, attracting both locals and tourists who seek adventures on the waves. Whether you want to try your hand at surfing or ride a stand-up paddleboard, this beach provides the perfect playground for aquatic fun. Lessons and rentals are available for those looking to learn or try out new water sports.
If you're an enthusiast of beach volleyball, Queen's Surf Beach is the place to be. With dedicated beach volleyball courts, you can join a friendly game with friends or watch skilled athletes showcase their talents. The beach becomes a lively hub during tournaments and events, where players and spectators come together to celebrate the excitement and camaraderie of the sport.
8. Fort DeRussy Beach
Fort DeRussy Beach offers more than just sun and sand – it envelops you in a rich military history. Located next to the historic Fort DeRussy Army Museum, this beach provides a fascinating glimpse into the past while offering a plethora of recreational activities.
Fort DeRussy has played a pivotal role in Hawaii's military history, dating back to the late 1800s. The beach, named after the fort, is a testament to its legacy. As you stroll along the shoreline, you can imagine the soldiers who once patrolled here and appreciate the significance of the preserved military structures surrounding the area.
Beyond its historical significance, Fort DeRussy Beach boasts ample green space and picnic areas, making it an ideal location for gatherings and outdoor leisure. Shaded by coconut palms and ironwood trees, these picnic spots offer a respite from the sun, allowing you to enjoy a leisurely meal or indulge in a serene moment surrounded by nature.
A beachfront walkway provides a scenic route for pedestrians and joggers, offering panoramic views of the gentle waves and the iconic skyline of Waikiki. Whether you're looking for exercise, relaxation, or a chance to connect with nature, Fort DeRussy Beach delivers an enriching experience.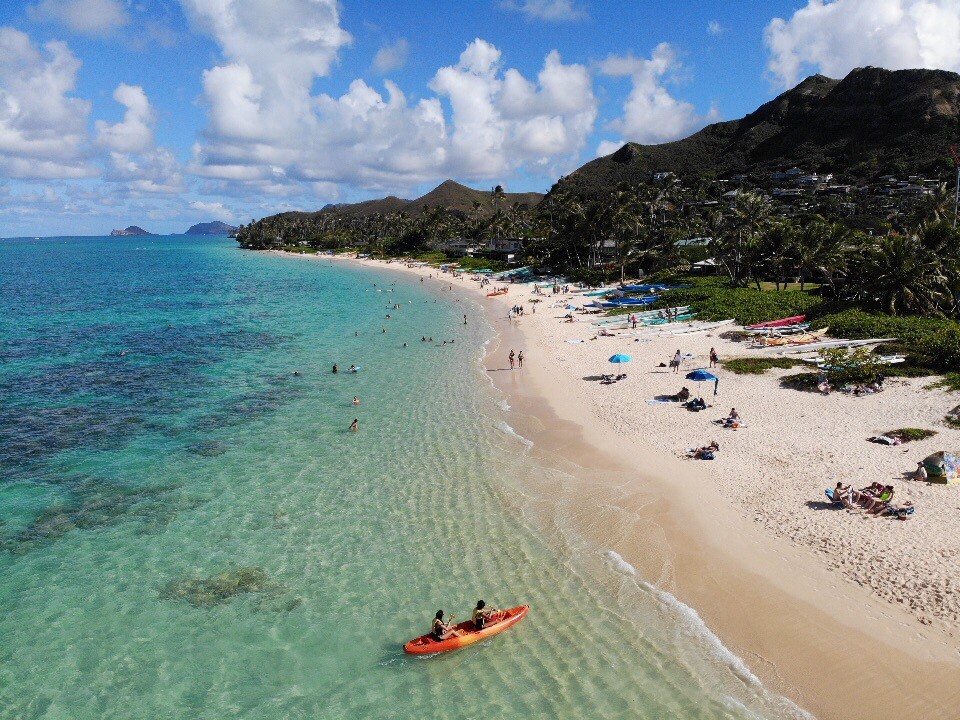 This image is property of www.best-of-oahu.com.
9. Kapiolani Park Beach
Nestled within the expansive Kapiolani Park, Kapiolani Park Beach offers a unique beach experience combined with abundant park amenities. This beautiful beach provides a blend of natural beauty and recreational opportunities that will surely captivate visitors.
Kapiolani Park itself offers a range of amenities, including open green spaces, tennis courts, and a bandstand that hosts live music performances. As you venture towards Kapiolani Park Beach, you'll be greeted by stunning views of the iconic Diamond Head volcanic crater looming in the distance. The juxtaposition of the lush parkland and the dramatic volcanic landscape creates a picturesque setting to be enjoyed.
Nature enthusiasts will appreciate the wildlife spotting opportunities at Kapiolani Park Beach. The surrounding park is home to various bird species, including the rare and iconic Hawaiian goose, known as the Nene. Keep your eyes peeled for these beautiful creatures as you stroll along the shoreline and enjoy the sights and sounds of nature.
10. Magic Island Beach
Situated on a man-made peninsula, Magic Island Beach offers a unique beach experience that stands out from the rest. This secluded oasis boasts a lagoon specifically designed for swimming and leisure activities, providing a safe and enjoyable environment for visitors of all ages.
The calm waters of the lagoon make it perfect for a refreshing swim or a leisurely float. Whether you're an experienced swimmer or just starting, the gentle currents and shallow depth provide a comfortable setting to cool off and relax. Families can also take advantage of the designated swimming areas for children, ensuring a worry-free day at the beach.
Sunbathing and picnicking are popular activities at Magic Island Beach. With its well-maintained grassy areas and palm tree-lined shores, there's plenty of space to lay out a blanket, soak up the sun, and enjoy a delightful picnic with loved ones. The tranquil setting and breathtaking views of the surrounding ocean and skyline make it an idyllic spot to unwind and create lasting memories.
In conclusion, Waikiki is a paradise for beach lovers, offering a diverse range of beaches that cater to different preferences and interests. Whether you're seeking a vibrant and action-packed atmosphere or a peaceful and secluded escape, you'll find the perfect beach to suit your desires. So, pack your beach essentials and get ready to soak in the beauty, culture, and warmth of Waikiki's finest beaches.
This image is property of www.hawaii-guide.com.